This image on the right is what my toenails on my left foot looked like about a year ago – my right foot looked basically the same.
What started as a bit of discoloration on the top of the toenail on the big toe on my right foot eventually spread to all of the other toenails on both feet.
Initial Diagnosis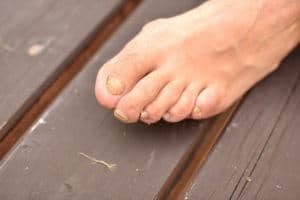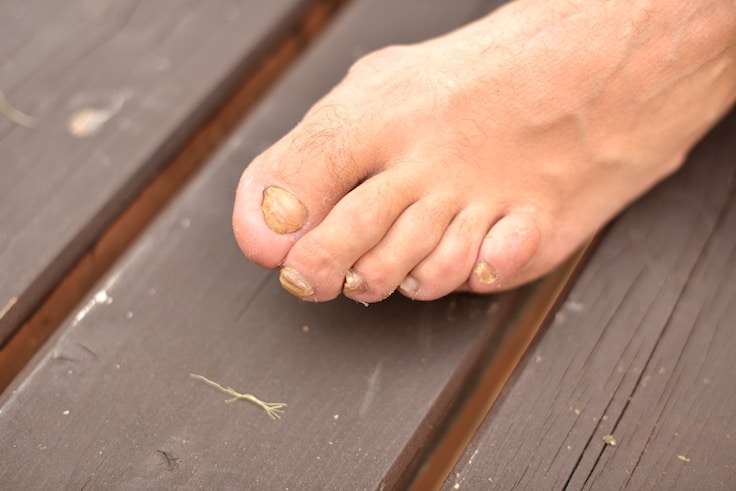 I spoke to my doctor about it, and he told me it was a toenail fungus – but there wasn't much that they could do about it.
He said that there were some topical solutions that you could apply to the nail to try and clear it up, but the best treatment would be to take some clippings of the nail and send them off to a lab to see if they could grow something. If they managed to get something to grow, then we could discuss some oral medications that were more effective.
Unfortunately, the lab results came back negative. He told me that it happens some times and that we could try again in a few months time. Years later, when researching more online about toenail fungus, I would learn that the clippings from most people fail to grow anything in a lab – mostly because the live fungus is deeper in the nail, and they're only taking a clipping of the disaster that they have left behind.
Topical Treatments
I then decided to try the topical treatment that my doctor recommended, which was Loceryl. It's an over the counter product available from most drug stores and costs about $100. The kit includes some nail files that you use to try and thin out your nails before applying the product, alcohol wipes to sterilize the nail and a special solution that you apply to the nail that is supposed to kill the fungus. After six months on this product, I hadn't noticed any real improvement and was coming to the end of the bottle. Given that it didn't show any signs of improvement, I decided not to buy another bottle and decided that I'd just have to live with the gross toenails.
Laser Treatment
Fast forward a couple of years, and I decided to do some research online. I discovered that since I'd last spoken to my doctor, there was a podiatry clinic in my city that had invested in a special medical laser to kill toenail fungus. I went for an initial appointment, and after agreeing to the $900 cost for a session, I went back a week later to have laser treatment. The pain wasn't just financial – the laser heats your nails up to 140°F (60° C) which can really hurt. 12 weeks later, I went for a follow up appointment and there was no real progress. I had a second session of treatment. After two more follow up sessions and two more "top up" treatments, I came to the realization that this treatment obviously wasn't going to work for me.
Home Remedies
I decided to try some of the cheap home remedies that people had spoken about online – you can read my experiences with those home remedies here.  After trying a couple of them with little success, I decided that I should start looking for other products that I could use to treat my toenail fungus.
The Breakthrough – Finding something that works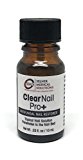 This was when I discovered ClearNail Pro+.
The great thing about ClearNail Pro+ is that I can order it online from Amazon – which means I don't have to face the judging glares of the staff at my local drug store when I ask for a toenail fungus treatment.
If you've been struggling with toenail fungus for years, then I'd strongly recommend you try ClearNail Pro+. Click here to visit Amazon buy ClearNail Pro+ online.