Have you noticed that one or more of your toenails have become thicker than your other nails, or they are becoming increasingly harder to cut? As someone who's been through this myself, I'm here to provide you with all the information you need, from what can cause your toenails to thicken, how to care for and treat the condition and tips for preventing it from reoccurring.
Causes
There are a number of different reasons that this could occur, with the most common one being a fungal nail infection – the medical term for this being Onychomycosis. Almost 10% of the adult population in most western countries (including 35 million Americans) have a fungal nail infection on one or more of their toenails, and it's the cause of about half of all nail related issues.
Other than a fungal nail infection, thick toenails can also be caused by a trauma to the nail, which has the medical name of Onychauxis. This doesn't necessarily mean it has had something heavy dropped on it, or that your foot was trodden on, as it can also be caused by things like poorly fitted shoes which cause the nail to rub against the shoe repeatedly.
Another cause of thickened toenails could be a medical condition, such as diabetes. One of the side effects of diabetes is poor blood circulation, especially to the lower extremities. As a result of the poor blood flow to your toes, the skin and nails do not receive the required nutrients to grow properly. Psoriasis is another medical condition that can cause nails to thicken, and is typically characterized by areas of red, raised and flaky skin that may look like scales. This condition can cause the finger and toenails to exhibit sections of pitting, thickened growth or irregular nail contours.
Finally, as we age, blood circulation starts to diminish which can cause the same results as described above for people with diabetes.
Diagnosis
If your thickened nails are caused by a fungal infection, there will also be a discoloration of the nail at the same time, typically a yellowish/whitish color although it may also turn green or black. You may also notice that the nails are brittle, they may have ridges in them and they could also be rather sensitive or painful when they are touched or when you try to cut them.
Another good sign that your thickened nails may have been caused by a fungal nail infection is if you have recently had a case of athlete's foot/tinea. The fungus that is responsible for an athlete's foot infection is the same strain that likes to eat away at your toe nails and causes unsightly thick toenails.
If your thickened toenail was caused by a sudden impact trauma, you may notice that this is just a small (or large) bump in the nail that is growing out normally, with a more regular looking section of nail growing both above and below it.
If you're unsure about whether you have a fungal nail infection, I would recommend that you speak with your doctor or pharmacist to get a professional opinion.
Treatment
The correct course of treatment for your thickened toenails is really dependent upon the underlying cause.
For all cases of thickened toenails, some careful work with nail cutters and a nail file can help to reduce the thickness of your nails and assist with the appearance – although if you don't feel comfortable with doing this yourself, a podiatrist can also do this for you. Most will also have a mechanical tool to grind down your thick nails, which can be quicker and less painful than using a nail file at home. While this can improve the appearance of your nails, it won't address any underlying issues.
If you have a fungal infection, you will need to be extra careful when cutting your nails, as they may split down the middle because they can become very brittle. Soaking your toes in warm water before you cut your nails can help prevent this by softening the nails and making them easier to cut. Be sure to clean any tools that you use with 70% isopropyl alcohol to prevent spreading the infection to your other toenails/fingernails or reinfecting your nails in the future.
If you have a fungal toenail infection, then there are a range of different treatments available, varying in price, effectiveness and the range of side effects that come with these medications. These range from topical antifungal creams or sprays, laser treatment or oral medications.
Over the Counter Topical Antifungal Creams and Sprays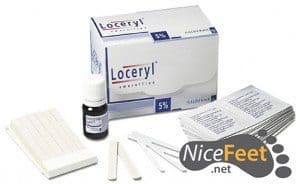 There are a wide range of topical antifungal creams and sprays on the market that are designed to treat toenail fungus. These include over the counter products like Loceryl® and Penlac® which can be very expensive to buy and are only available in pharmacies, and they typically have some side effects including a "burning" sensation which some users experience when applying these products to their toenails.
There is a second group of topical antifungals that are designed using a combination of all natural ingredients and also include an oral spray that helps fight the infection on two fronts. Because they're made from natural products, there are no nasty side effects whilst remaining highly effective. We'll discuss them more later in this article.
Prescription oral medications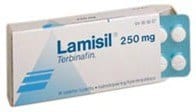 There are several oral prescription medications for fungal toenails, including Lamasil®, Sporanox® and Diflucan®. These medications are designed to be taken orally, travel through the blood stream and reach the nail matrix. The nail matrix is where your nail grows from, and so these medications are designed to treat your fungal nail infection from the inside of your body.
They are highly potent, and as a result, there are a number of side effects of these medications as well as various medications that they cannot be combined with. Most importantly, they can cause liver problems – which means you need to have liver function tests before, during and after your course of treatment. This means they are not suitable for all people who have fungal toenail infections.
While I have thought about making a second attempt to get a prescription for these pills (the first time, the lab were unable to grow anything from the toenail clippings that my doctor took), they are really a "last resort" type of thing and the side effects are pretty bad.
Laser treatment for fungal toenails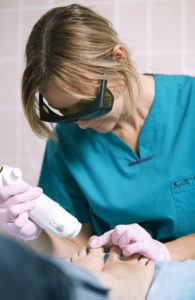 The latest generation of treatment options for fungal toenail infections that everyone is talking about is using special medical lasers. The basic premise behind the laser treatment is that the fungus that infects your toenails tends to die when exposed to heat, so the laser is designed to heat up the toenail, nail bed and nail matrix (where the nail grows from), to between 104°F-140°F (40°C-60°C).
There have been some studies released using small sample sizes that suggest that this treatment is effective, but the sample sizes are not large enough to be medically relevant.
The two downsides to using laser to treat toenail fungus are the cost and the pain factor. Currently, laser treatment costs around $800 per one hour session, and most people will require 3-4 sessions to see any real signs of effective treatment. This expense is not covered by your health insurance, which means you need to pay the full cost of this treatment.
Secondly, it is quite painful. The laser procedure requires your podiatrist to heat your toe up to 104°F-140°F in order to kill the fungus – and this can get quite painful, speaking from personal experience. I often had to ask my podiatrist to pause for a few moments because it was getting too painful. There is also a "burnt" sensation in the toes for a day or two afterwards as well, which can provide some discomfort when walking.
Natural home remedies
There are a number of natural home remedies that have been bandied around for years that are finding their way onto the internet as cures for toenail fungus.
These include various household items that are suggested to be able to kill fungus for various reasons, including soaking your feet in a bath of Listerine mouthwash, vinegar or household bleach mixed with water at various concentrations, and various essential oils like orange oil or tea tree oil, applied directly on the nail. Some people even suggest urinating on their toes was able to cure their case of toenail fungus – but that wasn't something that I was willing to try. 🙂
I have created a page on this site dedicated to these home remedies. Personally, I've tried the Vicks VapoRub and vinegar/water baths with no real success.
My personal recommendation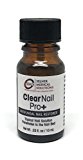 As mentioned previously, there's a new generation of over the counter products that extremely effective.
There are several products in this space, although the one that I chose to try was ClearNail Pro+. I liked the fact that I could buy it online, which meant I didn't need to discuss my toenail fungus with another person at the local drug store and deal with that judging look from the store assistants that you always seem to get when mentioning that you have toenail fungus.
As with any treatment plan, you need to stick at it meticulously to ensure that you get the desired results – much the same as you would for any diet or exercise program. This means ensuring that you apply the ClearNail Pro+ to the nail based on the instructions. I set alarms on my phone to remind myself to put the nail solution on.
Given how long I'd had my case of toenail fungus, and how bad it was, I knew that it wasn't going to go away quickly and some more time would be required. However, after about two months, I had started to see some new clear nail growing through. And after about four months, my toenail looked mostly healthy. I've totally cleared it up now, but I have decided to keep using it once a week as a preventative measure, to avoid any chance of a repeat infection.
So, if you've been avoiding the beach for fear of people being disgusted by your unsightly yellowed, crumbly, thick toenails – or just want to be able to wear sandals this summer, then I'd highly recommend ClearNail Pro+. It's the one product that actually managed to clear up my toenail fungus. Click here to go to the Amazon page for ClearNail Pro+ and buy it online.